A Variety of Workshops are facilitated by Glenda Dietrich Moore:

Explorations in Creativity Workshops – custom designed for your group: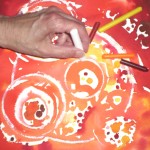 Smile!  Play!  Relax!  Create! Explorations in Creativity workshops are designed to provide a casual structure of reflection, discussion, and hands-on expression with art materials within a community of like-minded people. Workshops are tailored to meet the goals of your group. Objectives may include themes such as creative problem-solving, imaginative approaches to the demands of caring for people, improved communication, and/or the value of self-nurture.
Workshops are designed for your specific group: Caregivers, Healthcare Providers, Co-workers, Spiritual Seekers, Church Groups, Pastors…any group seeking to focus on renewal, self-enrichment, and/or a better working environment. Contact Glenda to discuss the needs of your group.

Glenda Dietrich Moore, M. Div. and B.F.A., is an artist and ordained minister with the Christian Church (Disciples of Christ.) Her ministry in the arts, called "Creation Energy," celebrates faith, expression and the vibrancy of life. Glenda leads workshops and retreats helping people experience balance and renewal through the creative process.